Blog Archives
Many folks might see farming in a romantic way, especially when it comes to raising sheep. One might think it would be great to work out doors in beautiful pastures with cute sheep running around. And yes, there is a little of that. But first and foremost, farming is not only a way of life, it is a business too, with lots of challenges.
One prominent challenge that comes to mind, at this time of year especially, is the weather.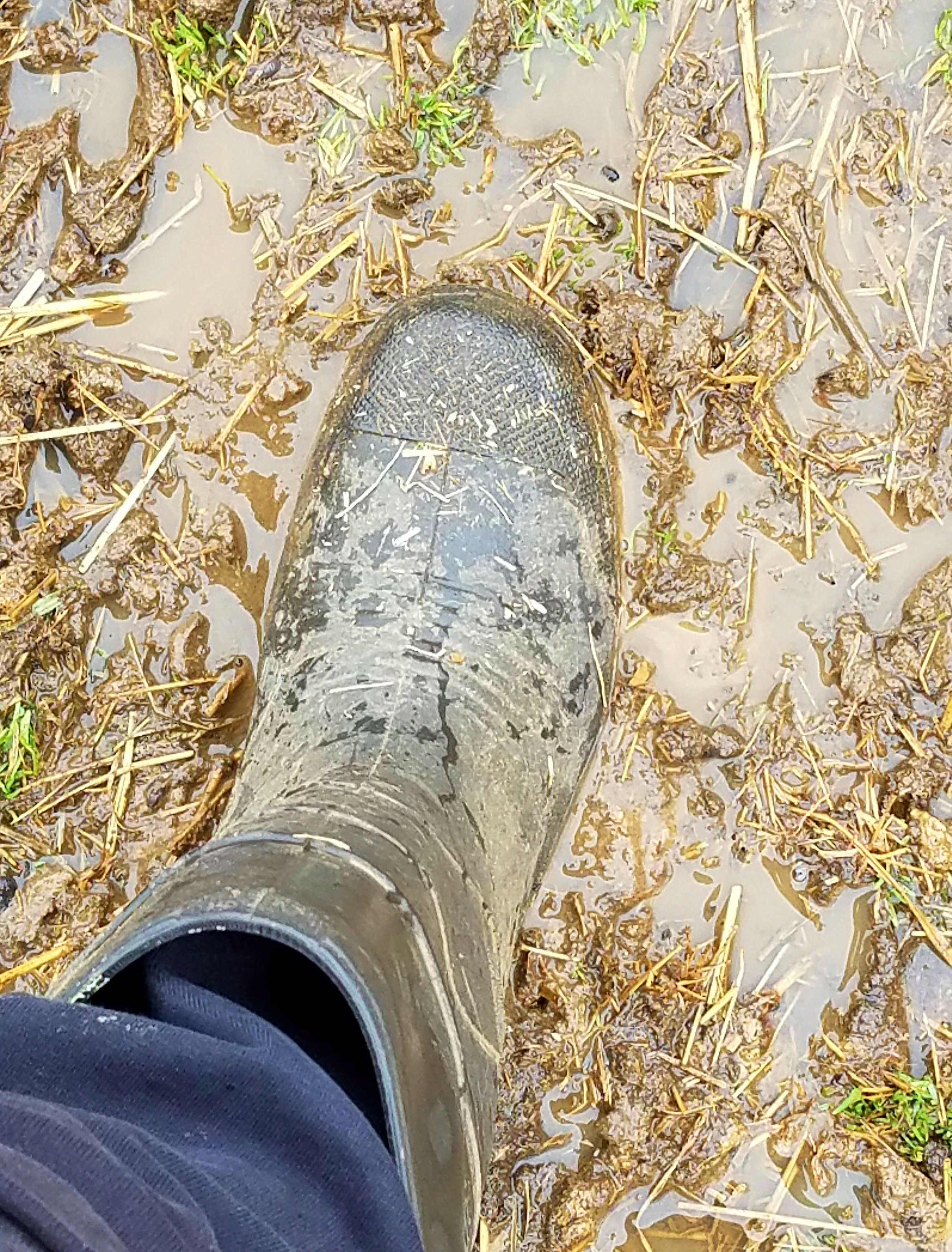 The pastures are muddy and it is a challenge to deal with the cold and the rain. Muddy boots are the norm. It seems this year, we have had more than our share of rain, so finding a day to wash and dry yarn and fleeces can be tough. But we managed to do a little dyeing last weekend and used a rare dry day to hang out some freshly dyed yarn.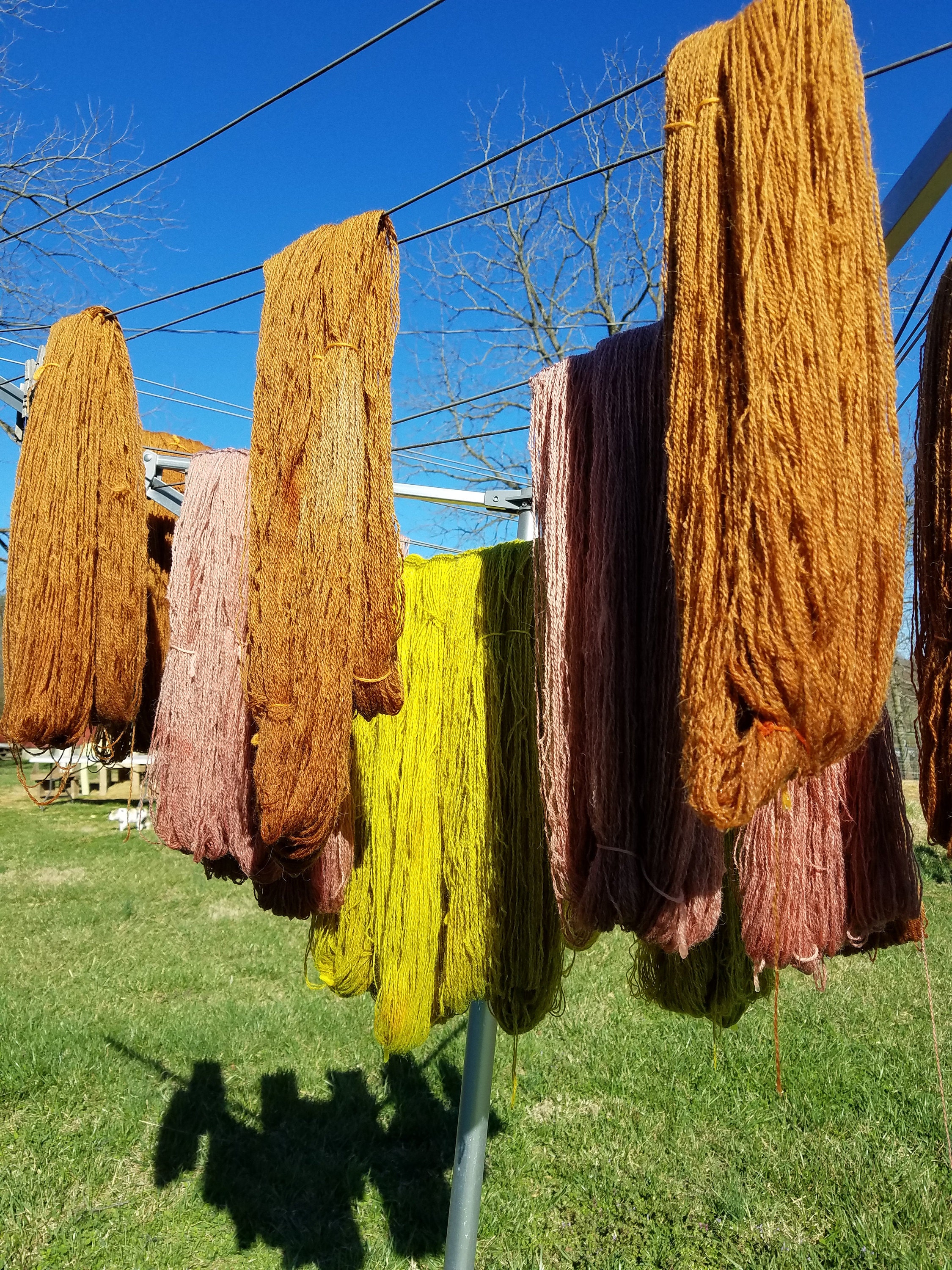 I do wear many hats, from shepherd, to accountant, to pattern designer and marketer…I can't do it all alone. I am always seeking strong farm partners, such as a great mill. It took a few mill runs to find Lydia at Gurdy Run Fiber Mill in Halifax, PA. Mills vary in areas of expertise, and schedules. Many mills can take as long as a year to get yarn back after delivering fleeces. Most are run as part time businesses and that can be a problem to a farmer who is beyond the hobby stage and is making a business out of selling her yarn. Lydia not only achieves wonderful consistency in her fingering weight yarn (not easy with a unique fleece like shetlands) but she is reliable in her completion dates. She has always delivered our yarn within 5 months. Almost unheard of in the mini-mill business.
Another great partner is my hay guy. I went through a few until I  finally found Larry. He is a 2nd generation cattle farmer who now makes a retirement business raising hay for local farmers. He is a partner I cannot do without. He keeps my sheep fed especially during the Winter months, with quality hay. If he or his cousin is out of stock, he seeks out other sources for me. He believes in my farm business and shows it with his efforts. I pay him of course, but I also keep him in socks too!
An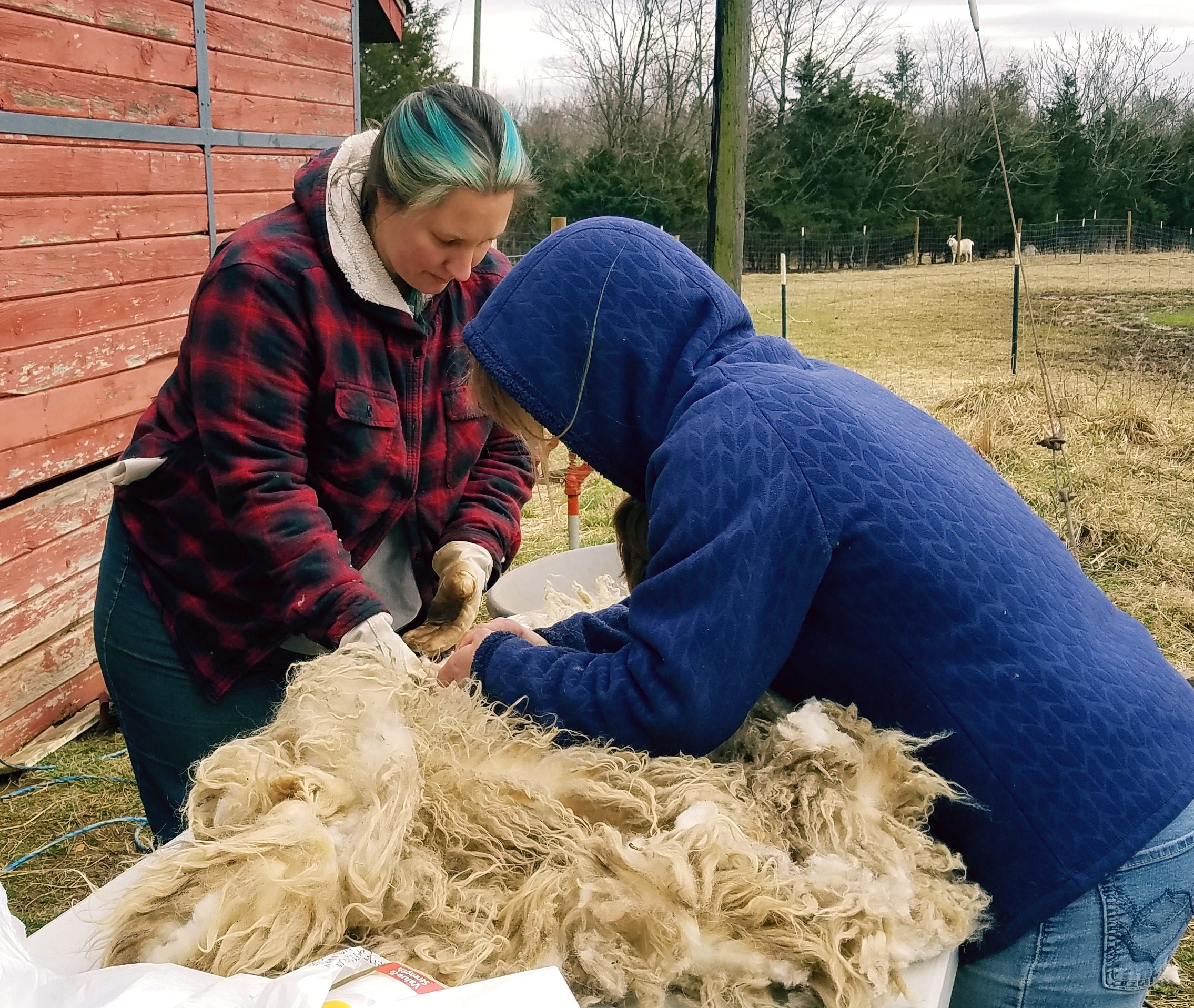 d last but not least…I have my family and friends. Many show up on shearing day to help with sweeping, bagging and sorting. Some days it can be cold. like 3 weeks ago when we last sheared. But there were no complaints. All stayed until the job was done.  And my husband is not only an expert sheep catcher, he will do extra duty, filling in for me feeding all the critters when I am sick with a cold. I am so grateful for the angels in my life that participate in, support and honor our family farm.
Bringing an American raised and processed yarn with the beautiful characteristics unique only to Shetland wool is a real privilege. Mentoring a sheep breed like Shetland can be very difficult, but it is important to maintain the breed. Most shearers do not like to shear a small primitive sheep. The collection of breeds known as Northern Short Tails such as Finn, Gotland, Icelandics and Shetland can begin to shed. This event is known as the rise and it can make it difficult to get a blade through. The small size of the sheep also presents challenges as they have more angles. It takes a very skilled and willing shearer to handle these challenges. It takes understanding that the quality of the fleeces are worth the effort. These qualities include softness with strength and resistance to pilling. And the beautiful natural colors makes this an exceptional breed, loved by lace and fair isle knitters and handspinners around the world.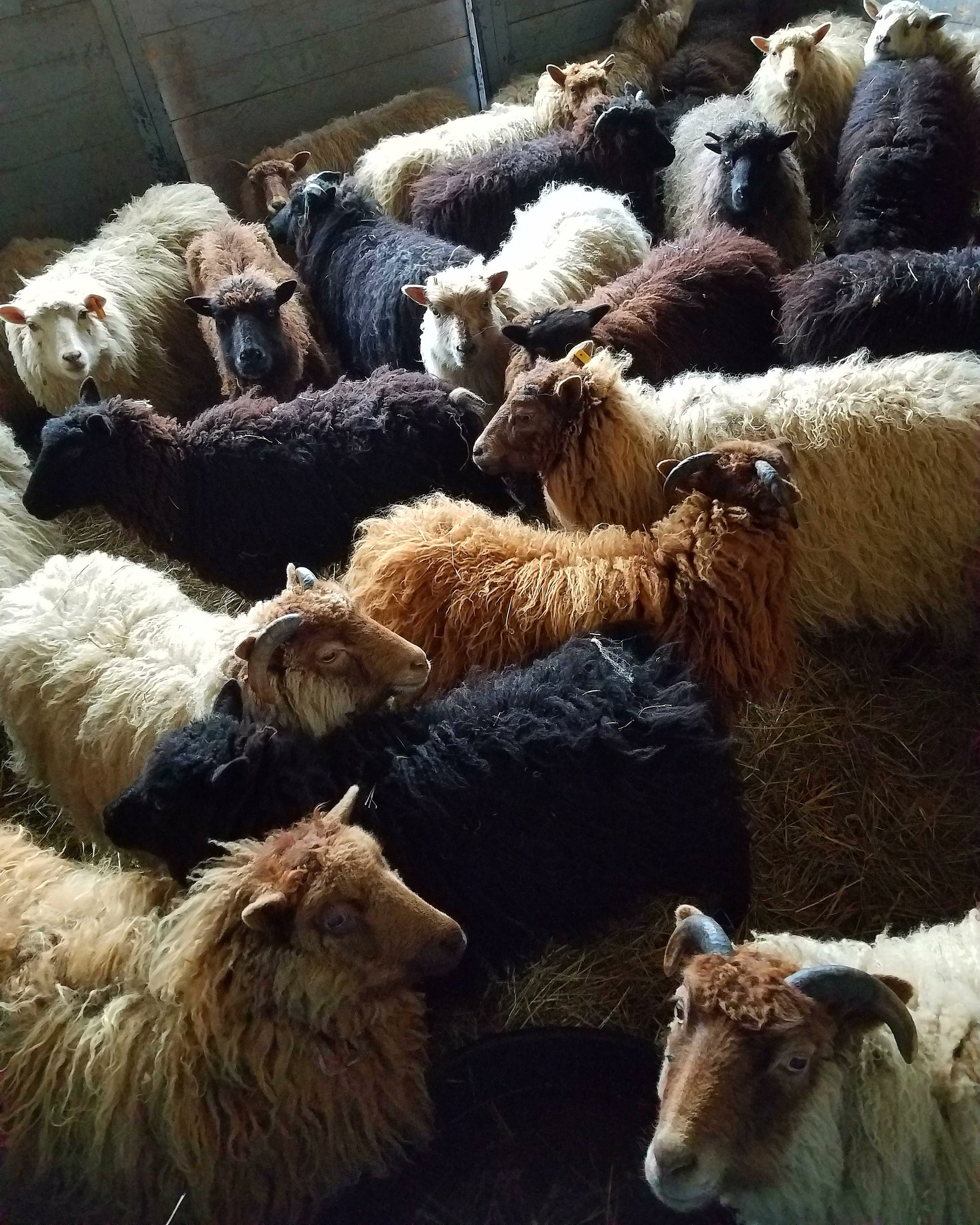 I love the Scottish history of this breed, who thrived on scarce rations on small islands in the North Sea, having been left by Vikings hundreds of years ago. The crofters (farmers) have protected and mentored this little sheep and  continue to do so today. Artisans have created works of art in lace from Unst and colorful stranded knitting known as Fair Isle. I fell in love with this little  sheep and strive to create an American version of Shetland yarn with patterns to go with it. And the socks we produce on the farm have been amazing too. So keep following along with us on our farming adventure. It is never dull and the work is never quite done. But we love it, and the friends we have made along the  way.
Our
farm store
is updated with 3 new colors of Hilltop Shetland fingering along with a new Spring Shawl pattern.
The last six to eight weeks or so are a blur. For six weeks in a row, I had to travel to some where…I have been to just about every corner of Virginia; to Berryville for the Shenandoah Valley Fiber Festival, to Orange for the Fall Fiber Festival, to Blacksburg for the Appalachian Harvest Festival and to Harrisonburg to get a lesson on a cranking sock machine that I am in the process of purchasing. And the last to Charles City for a sad errand.
In building this farm business, I go because of the wool, the wool drives me. I go to process the wool, go to sell the wool, go to learn about creating products with the wool, go to solve a problem guarding the animals that grow the wool. Also go to enjoy the company of like minded people of wool.
The passion is there to do what it takes, it is just sometimes I
am not sure what it takes. In the end I need to make money in order to justify the animals, the fencing, all the hay and grain purchases. I love developing wool products, the challenge is that I need to develop a beautiful Shetland yarn and roving that inspires wool crafters. This is a trial and error process and involves working closely with a mill that shares your vision and will work as hard as you do. I have enjoyed working with Mary at Central Virginia Fiber Mill. We have started first with soft lofty worsted yarns, some heavy worsted. I have learned that Shetland is light and soft, yet expands. The garments are comfortable because the yarn is light weight, even the heavy worsted yarns. I am working on a vest soon to be made into a pattern. The yarn is lovely in its squishyness. My flock is growing many natural colors and coupled with the dyed colors, makes my imagination spin with the finished garment possibilities. So more patterns to come.
(And don't forget the roving, we have tons in both natural and dyed ready to be spun up. I just love touching it. Would love for you to try and get your thoughts on it. )
Next we will be focusing on a fingering to sport weight yarn. I am acquiring and learning to use a circular sock knitting machine and will soon be producing not only Shetland Sock yarn, but also producing socks to sell. In the end, this might be what I focus my production on because no one has a similar product and it is what sells that will dictate what type of yarn we produce.
Well back to all the events. We were vendors at two of the events mentioned and tried to get into the third, but the Fall Fiber Festival has limited space for new blood. However, I sent in my application less than a week after the 2013 event for 2014. Hopefully a space will open up, because I am only an hour away and it would be a shame I can't vend in my own back yard. Anyway, we learned a few things. Angora yarn and products sell well. The yarn is all finely handspun, I have developed kits for small beaded projects and a nice stole pattern for an Angora blend yarn. Again, there are folks that sell the fiber, but few are producing a yarn.
Regarding the Shetland, natural colors are selling a bit better than dyed. And I have had requests for yarn to use for fair isle.
So here I sit, contemplating and planning as to what to do with the next crop of 30 or so fleeces about to be shorn off next week. And along with that, how to pay for a barn full of winter hay and feed and the processing costs at the mill. A lot relies on whether I can learn enough from this last October to make financially sound decisions. I have much riding on this. Can I read the minds of would be customers? And I wonder how to spread the word that reaches these customers effectively. All these things describes the real risks involved in being a yarn farmer. My love of wool drives me to take these risks. I take responsibility for the outcome by learning learning learning….how to grow and grade wool, how to evaluate yarn, roving quality, honing my dye and spinning skills, how to raise quality sheep and rabbits….And how to market.
My request, visit the farm shop, look around, maybe give some roving or yarn a try. But most important of all, I invite your feedback, honest feedback. And then you arm me with additional information to improve what I will produce for you. So the most important partnership of all, is crafter with shepherd-farmer. Exchanging ideas will result in desirable, beautiful locally grown wool products for you and your family's needs and pleasure.