Blog Archives
Many folks might see farming in a romantic way, especially when it comes to raising sheep. One might think it would be great to work out doors in beautiful pastures with cute sheep running around. And yes, there is a little of that. But first and foremost, farming is not only a way of life, it is a business too, with lots of challenges.
One prominent challenge that comes to mind, at this time of year especially, is the weather.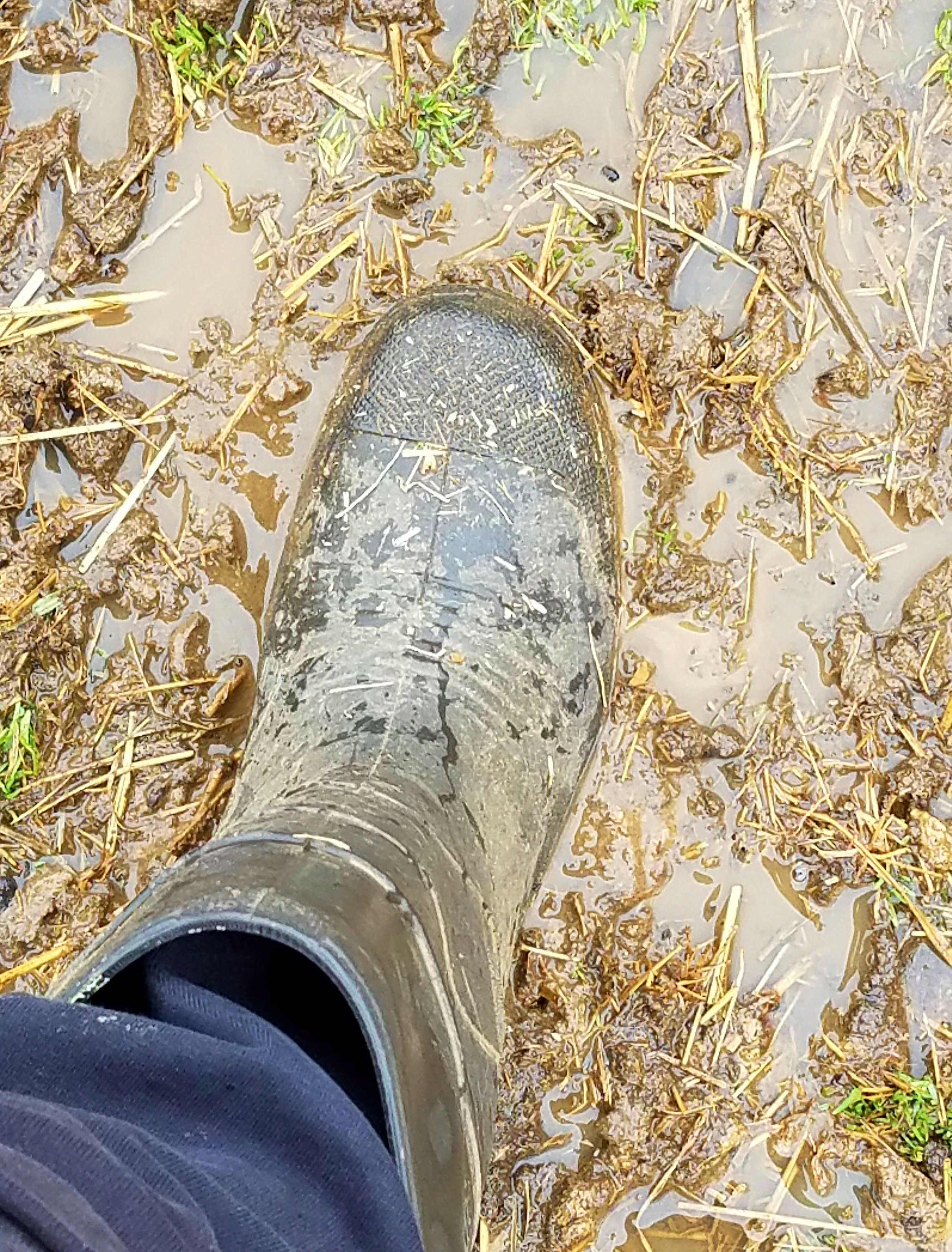 The pastures are muddy and it is a challenge to deal with the cold and the rain. Muddy boots are the norm. It seems this year, we have had more than our share of rain, so finding a day to wash and dry yarn and fleeces can be tough. But we managed to do a little dyeing last weekend and used a rare dry day to hang out some freshly dyed yarn.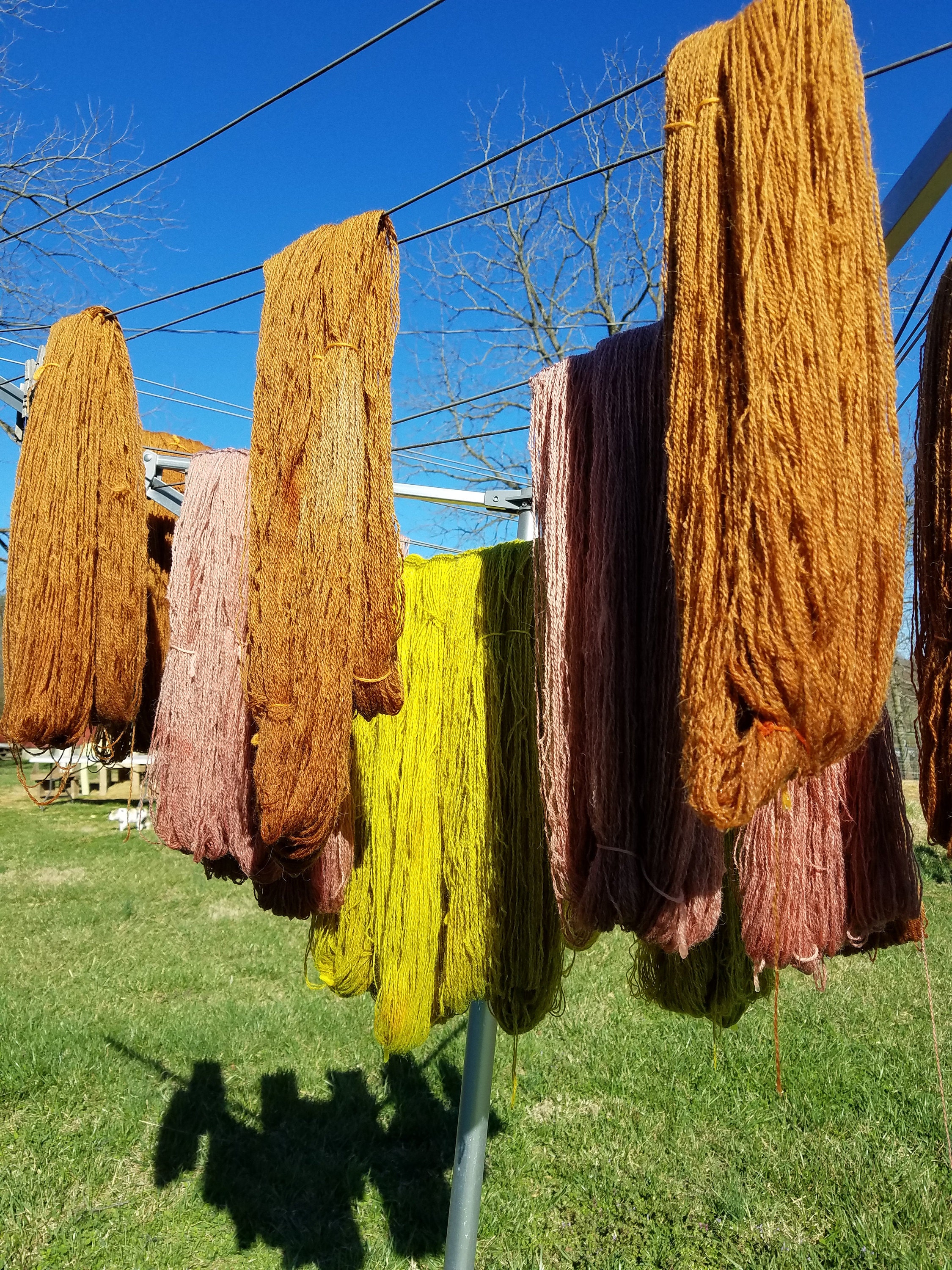 I do wear many hats, from shepherd, to accountant, to pattern designer and marketer…I can't do it all alone. I am always seeking strong farm partners, such as a great mill. It took a few mill runs to find Lydia at Gurdy Run Fiber Mill in Halifax, PA. Mills vary in areas of expertise, and schedules. Many mills can take as long as a year to get yarn back after delivering fleeces. Most are run as part time businesses and that can be a problem to a farmer who is beyond the hobby stage and is making a business out of selling her yarn. Lydia not only achieves wonderful consistency in her fingering weight yarn (not easy with a unique fleece like shetlands) but she is reliable in her completion dates. She has always delivered our yarn within 5 months. Almost unheard of in the mini-mill business.
Another great partner is my hay guy. I went through a few until I  finally found Larry. He is a 2nd generation cattle farmer who now makes a retirement business raising hay for local farmers. He is a partner I cannot do without. He keeps my sheep fed especially during the Winter months, with quality hay. If he or his cousin is out of stock, he seeks out other sources for me. He believes in my farm business and shows it with his efforts. I pay him of course, but I also keep him in socks too!
An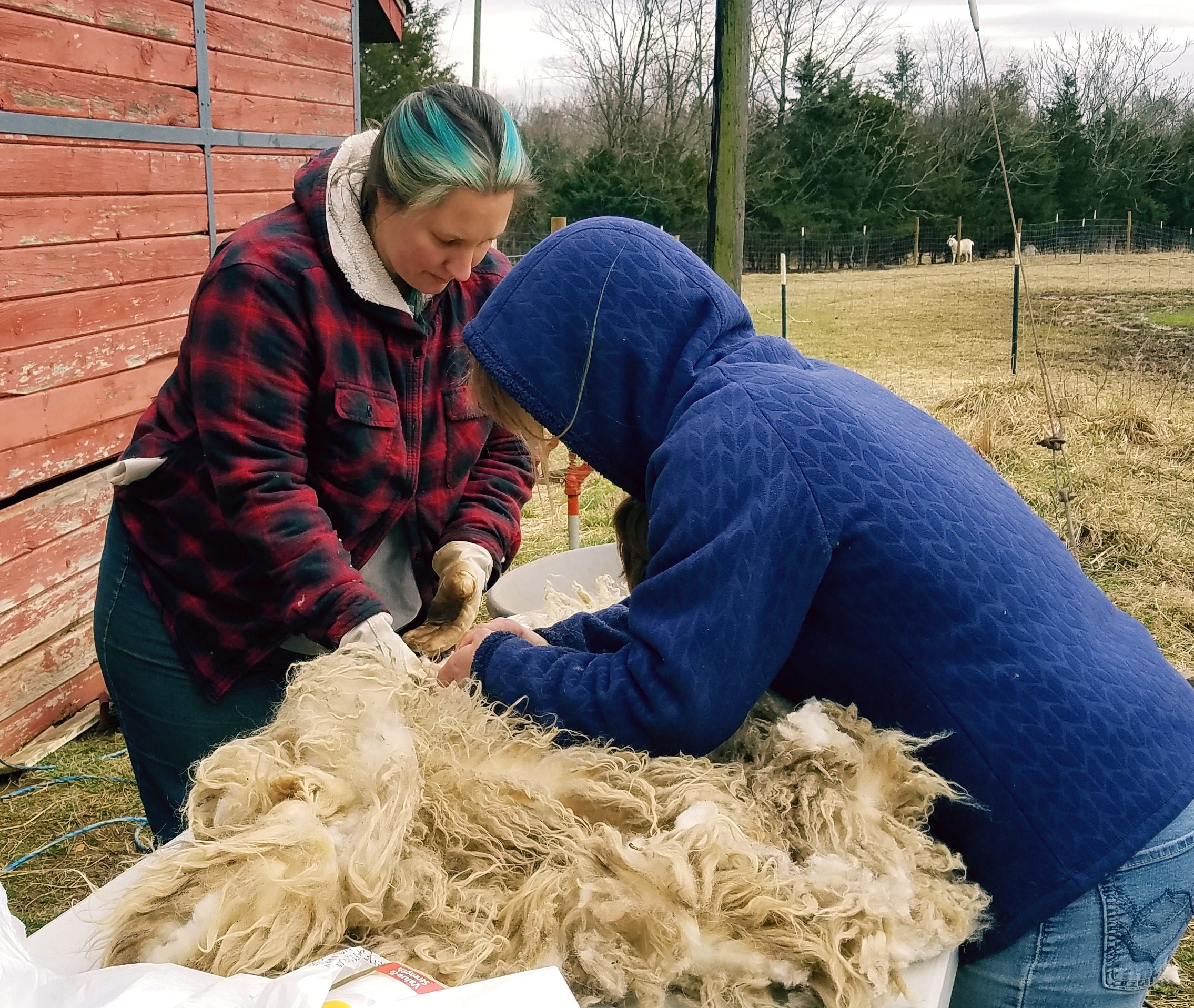 d last but not least…I have my family and friends. Many show up on shearing day to help with sweeping, bagging and sorting. Some days it can be cold. like 3 weeks ago when we last sheared. But there were no complaints. All stayed until the job was done.  And my husband is not only an expert sheep catcher, he will do extra duty, filling in for me feeding all the critters when I am sick with a cold. I am so grateful for the angels in my life that participate in, support and honor our family farm.
Bringing an American raised and processed yarn with the beautiful characteristics unique only to Shetland wool is a real privilege. Mentoring a sheep breed like Shetland can be very difficult, but it is important to maintain the breed. Most shearers do not like to shear a small primitive sheep. The collection of breeds known as Northern Short Tails such as Finn, Gotland, Icelandics and Shetland can begin to shed. This event is known as the rise and it can make it difficult to get a blade through. The small size of the sheep also presents challenges as they have more angles. It takes a very skilled and willing shearer to handle these challenges. It takes understanding that the quality of the fleeces are worth the effort. These qualities include softness with strength and resistance to pilling. And the beautiful natural colors makes this an exceptional breed, loved by lace and fair isle knitters and handspinners around the world.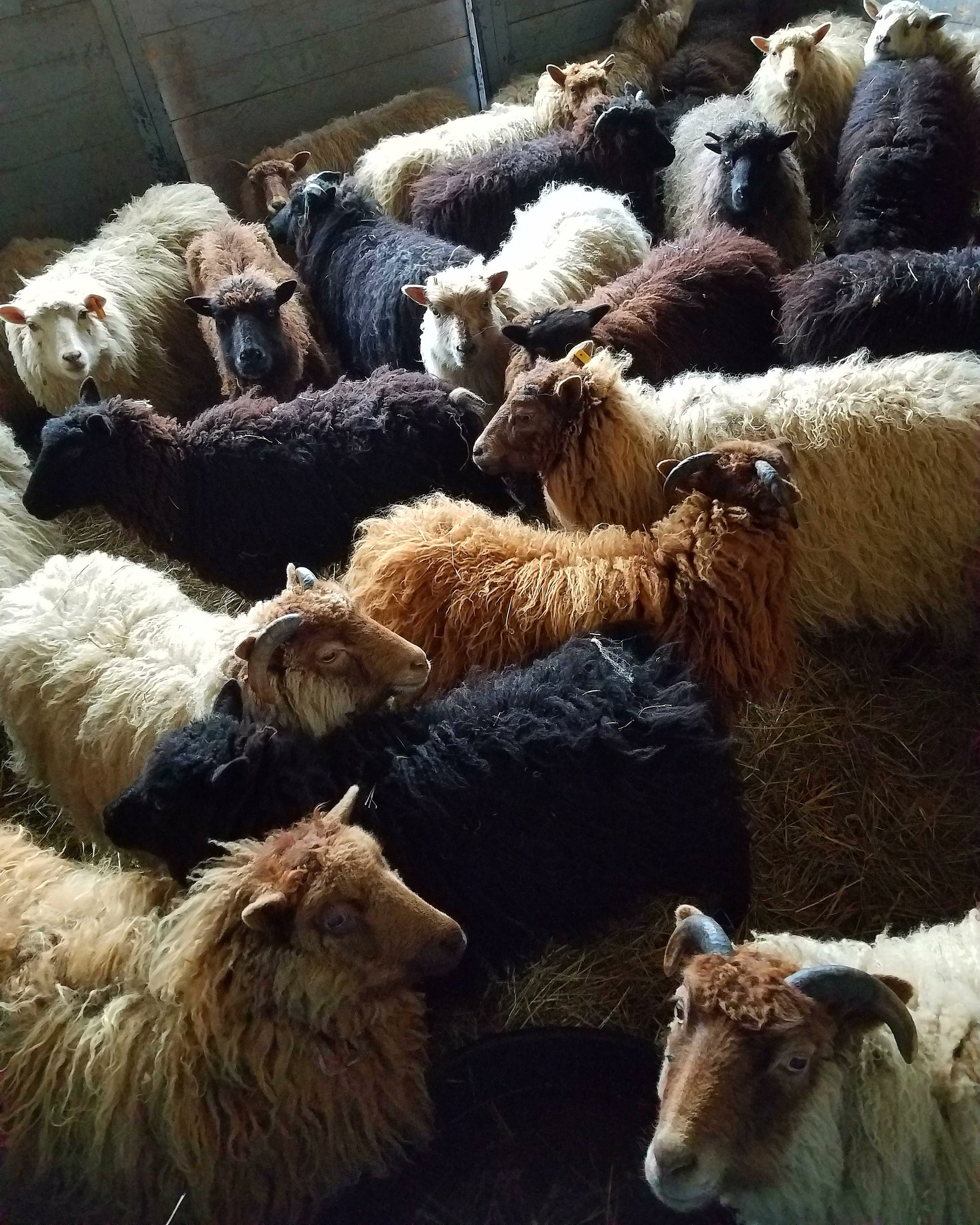 I love the Scottish history of this breed, who thrived on scarce rations on small islands in the North Sea, having been left by Vikings hundreds of years ago. The crofters (farmers) have protected and mentored this little sheep and  continue to do so today. Artisans have created works of art in lace from Unst and colorful stranded knitting known as Fair Isle. I fell in love with this little  sheep and strive to create an American version of Shetland yarn with patterns to go with it. And the socks we produce on the farm have been amazing too. So keep following along with us on our farming adventure. It is never dull and the work is never quite done. But we love it, and the friends we have made along the  way.
Our
farm store
is updated with 3 new colors of Hilltop Shetland fingering along with a new Spring Shawl pattern.
One of the challenges, or actually one of the fun parts, of developing yarn from our flock is coming up with ideas regarding how to use that yarn. Our yarn might be the most beautiful wool in the world (and many think it is), but it has to have a use. So as the we jump into the new year, I am working on some fun patterns for our Hilltop Shetland. Currently on my needles is the "Berry & Lace Vest". After playing around with stitch swatches, testing out the possibilities, I finalized the rough draft of the pattern with gauge measurements from the swatches. And I casted on some of our Hilltop Shetland in natural white.
I have no secret process in writing patterns. Mostly I do the swatches to make sure the math works, then I dive in. As I knit, I often make corrections or add to the design as ideas occur. I like to write with the knitter in mind. Is the pattern fun to do? And will I be happy with the results? Will I or the recipient of the garment actually wear it? All these things are on my mind.
So now I am on the home stretch of the pattern. I am knitting the border of the vest is a slipped moss stitch incorporating two colors of our hand dyed Hilltop Shetland. I can't resist to add color to the textural interest of this vest. As I am finishing, I note that the berry and lace stitch was easy to memorize and fun to do. The slipped moss stitch is interesting in that it holds my attention as the colors and textures emerge. And I am always happy if I can avoid shaping and still have the garment look good. That remains to be seen and I bind off. So visit back to see the results!
Once the wool was on the back of a sheep, now on the back of a person. So cool!!!